HF-LPB100-EVK
Product Code: UART to Wi-Fi [LPB100 EVK]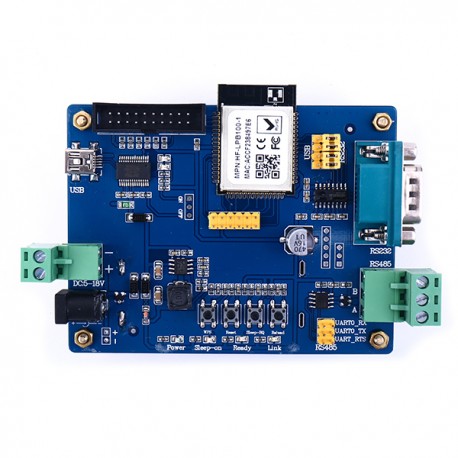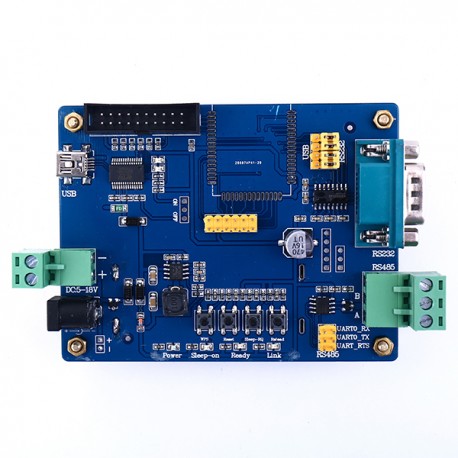 Wi-Fi LPB100 EVK
IOTworkshop provides the evaluation kit to promote user to familiar the product and develop the detailed application. The evaluation kit shown as below,Users can connect to Wi-Fi LPB100 module with the RS-232 UART, RS485, USB (Internal UART-USB convetor) or Wireless port to configure the parameters, manage the module or do some functional tests.
Wi-Fi LPB100 Evaluation Kit
Notes:Users need to download USB - UART port driver from IOTworkshop web or contact with technical support people for more details.
The external interface description for evaluation kit as follows:
Function

Name

Description

External

Interface

COM1

Main data/command RS-232 interface

RS485

Main data/command RS-485 interface

JTAG

JTAG data debug interface(Not for user use)

USB2TTL

UART to USB debug interface. (For PC without RS232, need load driver). Can be Power input.

USB DEBUG

USB2.0 data interface.

DC Jack

DC jack for power in, 5~18V input.

DC5-18V

DC jack for power in, 5~18V input.

BAT

2 Li-Battery Power Supply.

EXTPORT

HF-LPB GPIO function extend interface connector

JMP1,JMP2

Reserved, No Jumper required.

JMP3

4Pin USB or RS232 Jumper. Left jump select USB.

JMP6

3Pin RS485 Jumper. No jump selects RS232.

LED

Power

3.3V Power Indicator

nLink

nLink -WiFi LINK Indicator

nReady

nReady – Module Bootup Ready Indicator

On ("low")- Module bootup OK;

Off ("high")- Mouule botup failed;

Twinkle- Remote Upgrade Ongoing;

Sleep_ON

Sleep_ON-Module asleep or awake Indicator

On ("low")- Module in shundown(deep sleep) status;

Off ("high")- Mouule in normal status;

Twinkle- Bootloader Upgrade Ongoing;

Button

nReset

Used to reset the module.

nReload

Restore factory default configurationafter push this pin more than 3s.

WPS

WPS Button (Reserved, No Use)

Sleep_RQ

Pin Sleep Control button, more than 3s to put module in standby mode.