HF-A11-SMT-EVK
Product Code: UART to Wi-Fi/Eth [A11-SMT-EVK]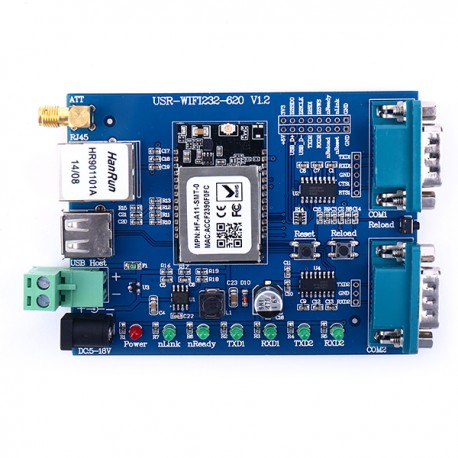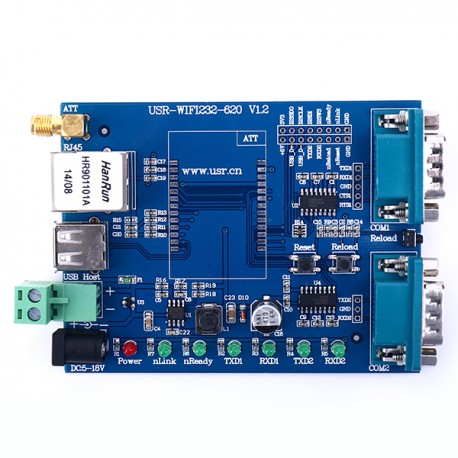 HF-A11-SMT-EVK
IOTworkshop provides the evaluation kit to promote user to familiar the product and develop the detailed application. The evaluation kit shown as below, user can connect to HF-A11-SMT module with the RS-232 UART port, 100M Eth port or Wireless port to configure the parameters, manage the module or do the some functional tests.
HF-A11-SMT Evaluation Kit
The external interface description for evaluation kit as follows:
Function

Name

Description

External

Interface

DC-Jack

5V@1A Power input: DC-Jack

DC 5V

5V@1A Power input: 2-Pin

COM1 UART

DB9, UART, Connect PC serial port

COM2 UART1

DB9, UART1, Connect PC serial port

RJ-45

100M Ethernet Interface

USB Host

Seserved USB (Type A)

DIP-16

Extended 16-pin functional interface

ATT

2.4GHz , SMA external antenna interface

LED

Power (Red)

3.3V Power Indicator

nLink

nLink/GPIO-Pin 14 Indicator

nReady

nReady/GPIO-Pin 16 Indicator

Button

Reset

Used to reset the module.

Reload

Module restore to factory default configuration.