Faster and more convenient
Date: 2023-02-22
Hits: 1328
---
Hanfeng technology released Elfin and Protoss series, once launched in the market, have been widely recognized by customers, the Elfin products are small, quick installation and flexible, low-cost advantages; Rail Wizard Rail installation more professional.

Therefore, the majority of customers put forward, elf products if you do not need to install bracket can also guide rail installation, will bring more convenient use experience and lower cost advantage, therefore, the engineers of Hanfeng technology, and the element of the elves added to the elves, small track Meta series was born

.
Extreme appearance
Length: 75.8mm * Width: 35mm * height: 21.9
---
Quick installation demonstration.




Small Track Elf Meta series products directly mount C45 standard rail
The original 35mm universal rail buckle (green) + Pokemon mounting bracket (black) can now be saved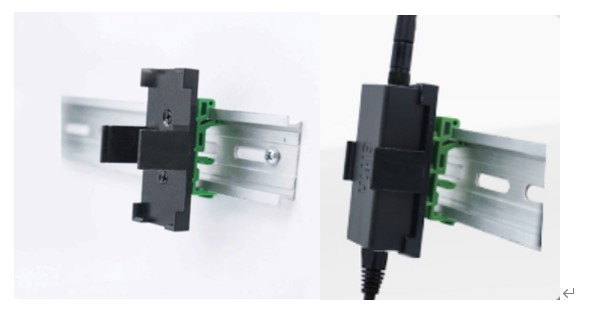 A little body with a lot of power
To recap, Elfin is a small device that allows data to be transmitted through a protocol between a serial port and a network.
Small-track Elf Meta is an upgraded version of Elfin. Currently, 4G version is available, and WiFi and Ethernet versions of small-track Elf Meta will be launched in the future.
Basic functional block diagram of MG41A/MG42A

Latest accessories
The wiring accessories of the track Wizard series are as follows:
Cabling: An RJ45 RJ45 connector is plugged into the network port of the Meta device. The other key is to restore parameters. The 4-PIN terminal is a power supply, RS232, RS485, or TTL serial port.
Accessories: RJ45 crystal head to 4-pin terminal. The terminal is a power supply, RS232, RS485, or TTL serial port.



Click on it for more product information
The products have been launched on Tmall, Jingdong, Taobao and other platforms.
Welcome to consult, order. →→ Click here to buy
(shop link) on https://item.jd.com/10067594261222.html#crumb-wrap
Since 2010, Hanfeng has been working in the application fields of Wi-Fi module, industrial automation, Internet of Things and so on. Until now, we always believe that the best way to do things is to keep improving! So we have been working hard, never stop, heart to develop the best serial server, continuous innovation and try, just to bring perfect user experience!